Faculty Details
Honors Faculty/Staff Details
Joseph Janes (Information School)
---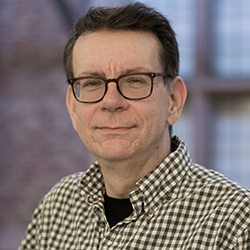 Joseph Janes
(Information School)
Office:
MGH 330 M, Box 352840
Phone:
206-616-0987
Email:
jwj@uw.edu
Website:
https://ischool.uw.edu/people/faculty/profile/jwj
I'm interested in how information and information resources work, what they are for, what they do and what they tell us about the human condition; in particular I study the cultural impacts and social roles of documents and documentary forms. In addition, I have a focus on libraries, how they work, how they change, how they have evolved, and what we can learn and adopt from previous practice, blended with new and exciting ideas, to keep libraries of all kinds vital, necessary and important parts of their communities. I teach courses in information sources and services, in search, in research methods and statistics, and the broad information field in general. Associate Professor Janes holds the MLS (1983) and PhD (1989) from Syracuse University.
Instructor's Honors Course History
| Listing | Course Title | Yr | Qtr | SLN | Details |
| --- | --- | --- | --- | --- | --- |
| HONORS 232 A | The Record of Us All | 2024 | 2 | | View » |
| HONORS 230 B | The Record of Us All: The Past, Present and Future of the Human Record | 2021 | 4 | 16399 | View » |
| HONORS 397 B | The UW for the Future: What could and should it become? | 2019 | 2 | 14992 | View » |
| HONORS 231 A | The Record of Us All: The Past, Present and Future of the Human Record | 2018 | 1 | 15432 | View » |